Chemical Process Pumps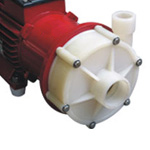 Seal less Magnetic Drive pumps
These pumps are 100% Leak Proof Magnetic Drive pumps. There is no shaft seal used and the impeller is provided the rotation with the help of Magnetic drive. High Power permanent rare earth Magnets are used in magnetic drive arrangement which gives high mechanical efficiency with zero slippage.
These pumps are 100% Leak Proof and ideally suitable for handling corrosive chemicals, toxic and fuming liquids, acids, electroplating chemicals, dyes, solvents, petrol, kerosene, pharmaceutical and food syrups etc.
Features
100% Leak Proof Pumps
No Shaft Seal to maintain, replace
High Efficiency due to permanent magnet power coupling
Simple design, easy to operate & maintain
Very useful for handling highly corrosive chemicals, plating chemicals, toxic & fuming liquids
Application In Various Industries :
Chemical & Process
Fertilizers
Textile processing
Petrochemicals
Pulp & Paper Industries
Pharmaceuticals
Salt & Marine
Food & Beverages
Steel Industries
Power Plants
Oil Treatment Plant
Water Treatment Plants
Pump Material & Temperature Resistance
Polypropylene Glass Field :

80°C
PVDF (Polyvinylidene Fluoride):

120°C
Pump Range & Capacity
Capacity upto :

10 LPM To 750 LPM.
Head upto :

40 Mtrs .
Power upto :

0.12 H.P. To 5 H.P.
Speed (RPM) :

2900 RPM
Phase :

Single Phase / Three Phases
Imported Notes: Flame Proof Pump's Motor also Available in all pump range and capacity