VERTICAL GLANDLESS PUMP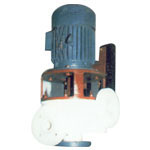 Vertical Glandless Pumps are specially design to remove the problems arising from the use of Mechanical Seals, Stuffing Box Gland , Internal Bearings and Dry running in all types Centrifugal Process Pumps. The pumps is similar design to any conventional centrifugal pump. It differs in so far as , it is always mounted in the vertical position. A restriction is provided above the impeller and the need for any form of liquid seal is obviated by allowing a small leakage to escape by way of an overflow connection in the upper pump body and return to the suction vessel. The Volute Casing & Impeller are made from UHMWPE and also the over flow Casing Cover is made from UHMWPE materials to give max. high strength to pump. The Pump is supported by CI mounted bracket with SS Bolts & Nuts.
Polyprpylene Vertical Gland Less Pump uses for handling highly corrosive & abrasive acids, alkalis like H3PO4, H2SO4, HF, ZnSO4, Na2SO4, HCL, NaoH, etc. in Phosphoric Acid Plants , Gas Washing Plants , Rayon Plants , Caustic Soda Plants , Water Treatment Plants , Filterpress for Dyes , Effluent Treatment Plants , Electro plating , Pickling in Steel Rolling Mills , Paper & Fertilizer Plants etc .
Features of Vertical Glandless Pump
No mechanical seal, stuffing box and internal bearings provided.
No maintenance since the pump can even run dry indefinitely as there is no packing, bushes or internal Bearings.
Reduction of downtime production losses in view of above features.
All the wet-end parts are in solid molded construction to with stand corrosion and erosion.
The impeller is semi-open type used in our all-vertical pumps to suit both clear and polluted fluids.
Pump mounted outside the suction tank and is not submerged type.
Application in Industries
Chemical Process Plants
Fertilizers
Textile processing Industries
Drugs & Intermediate
Petrochemicals
Pulp & Paper Industries
Pharmaceuticals
Salt , Sugar & Marine Industries
Food & Beverages
Steel Industries
Power Plants
Oil Treatment Plant
Water Treatment Plants
Oil & Refinery Industries
Pump Material & Temperature Resistance
Polypropylene :

80 °C
PPH :

100 ° C
PVDF :

120 ° C
PFA :

180 ° C
Pump Range & Capacity
Capacity upto :

60m3/hr
Head upto :

50 Mtrs
Power upto :

1 H.P. To 10 H.P.
Speed (RPM) :

1440 RPM , 2900 RPM
All Pumps are Available in Three Phase Power .
Imported Notes: Flame Proof Pump's Motor also Available in all pump range and capacity .