Mono Block Pumps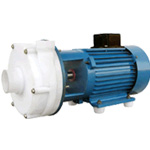 Monoblock type PP - PVDF pumps which are small, economical and easy to use and maintain. Ideal to for transfer of corrosive liquids, pharmaceutical products, food and dairy products, chemical transfer and filtration etc. These pumps are specially designed for economic application with high capacity and discharge . Std. pumps are available with GFT Mechanical Seal.
All Mono Block pumps are available in Bare Shaft and Monoblock design with standard motors OR Flameproof motors.
Application in Industries
Chemical Process Plants
Fertilizers
Textile processing Industries
Drugs & Intermediate
Petrochemicals
Pulp & Paper Industries
Pharmaceuticals
Salt , Sugar & Marine Industries
Food & Beverages
Steel Industries
Power Plants
Oil Treatment Plant
Water Treatment Plants
Oil & Refinery Industries
Pump Material & Temperature Resistance
Polypropylene :

80 ° C
PVDF :

120 ° C
Pump Range & Capacity
Capacity upto :

32 m3/hr
Head upto :

20 Mtrs
Power upto :

1 H.P. To 3 H.P.
Speed (RPM) :

2900 RPM
All Pumps are Available in Three Phase Power
Imported Notes: Flame Proof Pump's Motor also Available in all pump range and capacity