SMC Sheet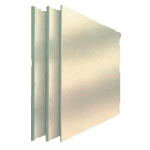 These are hot pressed Moulded Polyester base SMC Sheets and have excellent Di-electrical properties. Sheets can be easily machinable and therefore can be Fabricated into various Electrical /Electronic applications such as BUS BAR SUPPORTS PARTITION PLATES, TERMINAL BOARDS. Anti-corrosive and resistant to most acids, alkalies & Chemicals.
Sheet Standard Size
Thickness :

1.5 mm to 15 mm
Size :

1 Meter Length x 1 Meter Width
Material :

SMC Sheet
Color :

Standard Off-White-Other colours can be offered as per Customer's requirement against large quantities.
Temperature :

Upto 140° C