Gratings for Surface Drainage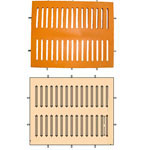 The gratings that are used at present are in concrete or cast iron and they pose several problems such as heavy weight and hence difficulty in handling and installation. They are largely prone to corrosion and, are expensive. The gratings in plastic, offered by Supreme, are free from the aforesaid problems and in fact, have several advantages that make the product an ideal choice for surface drain covers.
Advantages :
Light weight - Easy to handle and store.
Ease of Installation.
Versatility.
Tough and durable.
Excellent corrosion and chemical resistance.
Environment friendly.
Less prone to thefts.
Cost Effective.
Effective substitute to C.I. and concrete gratings.
Application :
Gratings offer the correct solution for surface drains, in various applications.
Pavements
Road side curbs
Cycle paths
Car-parks
School yards
Play grounds
Shopping malls
Storage yards
Sports grounds
Building terraces and balconies
Side drains in building complexes
Range :
Gratings are available in standard lengths of 500 mm and 600 mm and in widths of 150mm, 200mm, 375mm and 400 mm. They are provided with slots.
Dimensions Details :
Size in mm
(+5.0,-0.0)
Dimension
No. of Slots
Thickness in mm
A
B
C
500&times150
30
90
40
15
15
500&times200
50
100
40
15
15
500&times375
30
65
40
15
15
500&times400
45
60
40
15
15
600&times150
30
90
45
18
15
600&times200
50
100
45
18
15
600&times375
30
65
45
18
15
600&times400
45
60
45
18
15